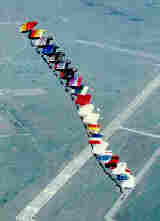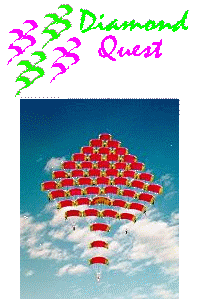 Diamond Quest Training Camps
---
Want to be on the next CReW world record?
Join us for a weekend full of intensive instruction and challenging skydives. We are seeking dedicated and skilled individuals in our quest to build the largest diamond ever.
Experienced canopy relative workers are invited to the upcoming training and selection camps. The camps begin with a lecture at 7 p.m. on Friday evening, followed by a full weekend of challenging dives. Demo canopies will be available for all participants to use.
Lecture attendance is mandatory. The activities for the evening will include introduction and discussion on the DQ approach and skills needed to be invited on the next world record attempt. We will also show several videos of previous efforts and one specifically produced for the training camps.
Saturday and Sunday will consist of jumps engineered for the skill levels available. There will be extensive dirt diving, and every jump will be followed by a thorough post dive review.
The intent is to teach new techniques, hone current skills, and to challenge everyone. The jumps will also provide a basis for us to evaluate your skills and potential contribution to DQ.
We are looking for people who are committed to improving their skills and furthering the cause of CReW. We are all here to learn from one another. We look for and solicit your comments, suggestions, and recommendations.
The first time registration fee is $40 per participant, and $10 for subsequent camps. This fee is used to cover administrative costs of the organization.

Please contact camp leader or register here to reserve a slot and a FCI Prodigy canopy for the camp.
Click here for the current Camp Schedule